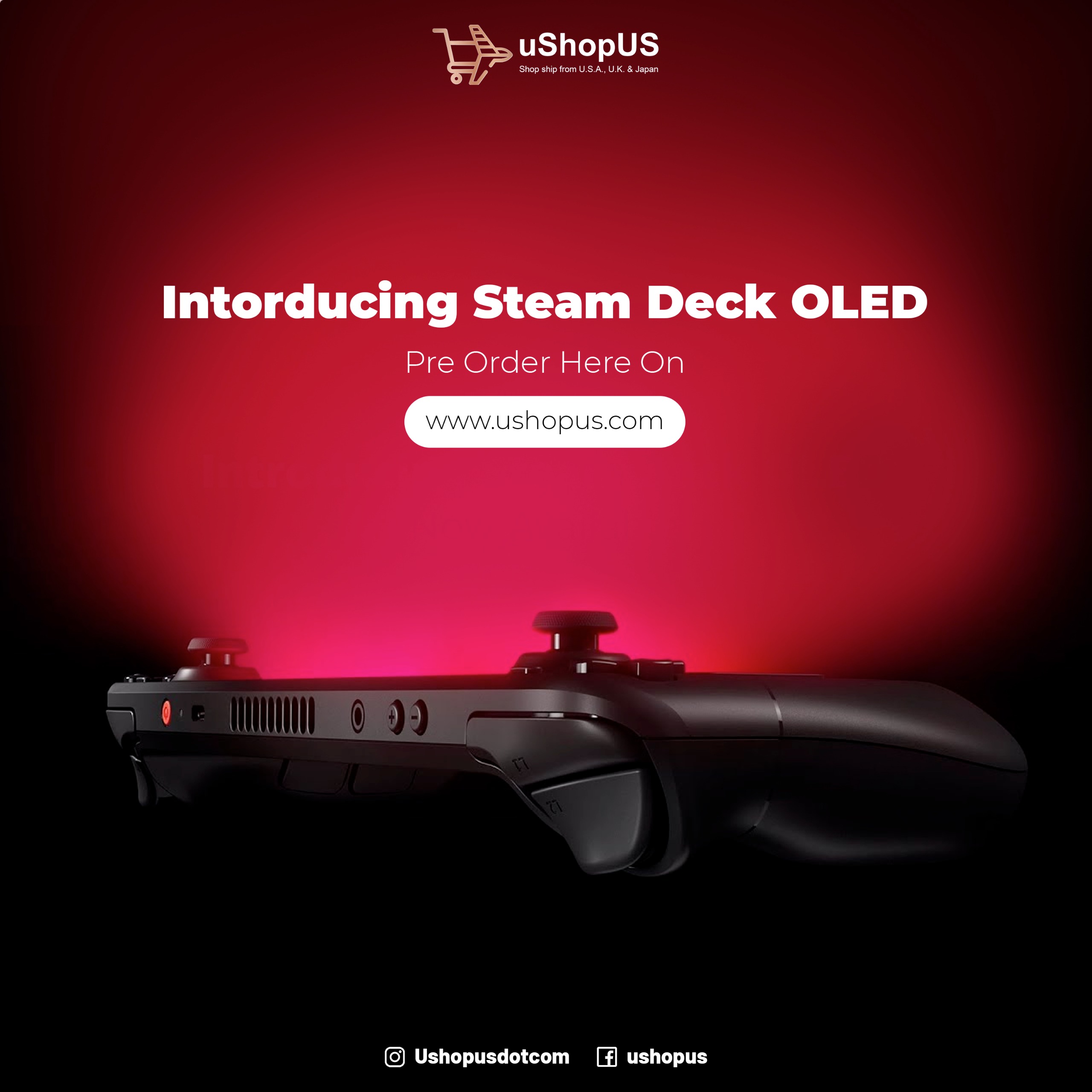 Gamers, brace yourselves for the ultimate gaming experience! The much-awaited Steam Deck OLED by Valve is finally here, and it's taking the gaming world by storm. But what if you're outside the U.S. and can't get your hands on this gaming marvel? Don't worry; we've got you covered! Get ready to join the revolution with uShopUS, your go-to solution to make sure you don't miss out on this cutting-edge gaming experience.
Why the Steam Deck OLED?
Immersive Visuals: Dive into gaming bliss with the stunning OLED display, delivering vibrant colors and deeper blacks for an unparalleled visual experience.
Powerful Performance: The Steam Deck packs a punch with its custom AMD APU, ensuring smooth gameplay for even the most demanding titles.
Portable Gaming Redefined: Take your games anywhere with the handheld design, complete with ergonomic controls for gaming on the go.
Extensive Game Library: Access your entire Steam library on the go and discover a vast array of PC games at your fingertips.
Steam Deck OLED Pricing:
| Steam Deck Model | Price | Storage | Display |
| --- | --- | --- | --- |
| $399.00 LCD | $399.00 | 256GB NVMe SSD | 1280 x 800 optically bonded LCD |
| $549.00 OLED | $549.00 | 512GB NVMe SSD | 1280 x 800 HDR OLED |
| $649.00 OLED | $649.00 | 1TB NVMe SSD | 1280 x 800 HDR OLED |
| $679.00 OLED Limited Edition | $679.00 | 1TB NVMe SSD | 1280 x 800 HDR OLED (LIMITED EDITION) |
How to Pre-Order with uShopUS?
Sign Up: If you haven't already, sign up for a free uShopUS account at uShopUS.com/register.
Get your U.S. Address: Upon registration, you'll receive a personal U.S. address.
Visit Valve's Steam Deck Page: Go to Valve's official Steam Deck page and place your pre-order.
Use your uShopUS Address: When you check out, use your uShopUS U.S. address as the shipping address. If you need assistance with purchasing, please get in touch with us at https://wa.me/message/6VTVGIBG7LJNO1.
Relax as uShopUS Works Its Magic: Once your pre-ordered Steam Deck reaches our warehouse, we'll handle the international shipping logistics.
Enjoy Gaming Bliss: Receive your Steam Deck at your doorstep and dive into a new era of gaming!
Why Choose uShopUS?
Global Access: Unlock the world of U.S. shopping and get your hands on exclusive tech like the Steam Deck.
Consolidated Shipping: Save on shipping costs by consolidating multiple orders into one shipment.
Easy Process: With uShopUS, the process is seamless — from registration to delivery, we've got you covered.
No Hidden Fees: Enjoy transparency with no hidden fees. What you see is what you pay.
Don't miss your chance to be among the first to experience gaming greatness with the Steam Deck OLED. Pre-order now through Valve and let uShopUS bring the gaming revolution to your doorstep!